News
11/23/2020
Roman Miroshnichenko's new album "The Sixth Sense" is gaining popularity in Japan. A week after the release, the composition "Bodhrán's Magic", included in the new album, received a nomination for the Hollywood Music in Media Awards (HMMA), the nominees and laureates of which were the soundtracks for the films "Joker", "Parasites", "Spiderman", "The Addams Family", "Ford V Ferar"i, "The Green Book", composers and songwriters Hans Zimmer, Alan Silvestri, Earth, Wind & Fire, Annie Lennox, Sam Smith, Jennifer Lopez, Lady Gaga, Christopher Young and many others ...
"It looks like the new HMMA nomination and the album's impressive roster of special guests have sparked serious interest from the Japanese label Gats. Soon we signed a contract for the production and distribution of a special edition of CDs. " - comments Roman.
Notably, physical media is still very popular in Japan and the Land of the Rising Sun is the second largest music market in the world, selling music worth more than $ 2.44 billion a year, most of which is in CD format. The new album is also available worldwide on Bandcamp and iTunes.
11/15/2020
Roman Miroshnichenko's composition 'Alien's Electrik Dream' is a Finalist of 25th Annual the USA Songwriting Competition in the "Instrumental" category! Last year Roman has won Honorable Mention in the Unsigned Only 2020 (UO) music competition with the same track. "Alien's Electrik Dream" is dedicated to one of the greatest guitar players of all time Steve Vai, who very kindly responded on the composition:
«Congratulations on your record! And thanks so much for the touching Alien's Dream. It's quite beautiful! I like music that has some rich changes and cool melody!»
In the next category "World" with the song "Just a Rainy Day" the list of finalists includes the famous Russian pop-singer and songwriter Leonid Agutin in a duet with the American guitarist Al Di Meola. In 2013, Roman Miroshnichenko became the first and today the only Russian 1st Prize Winner in the entire 25-year history of the USA Songwriting Competition.
The USA Songwriting Competition, the world's leading international songwriting event honors songwriters, composers, bands, and recording artists. Winners were selected by a Blue Ribbon committee of music industry judges including record label publishers, producers from SONY Music, Warner/Reprise Records, etc. Past honorees include Jan Anderson, Gino Vanelli, Jamie Alimorad and others.

10/17/2020
Roman Miroshnichenko's composition "Bodhrán's Magic" from new album "The Sixth Sense" - NOMINEE of The Hollywood Music In Media Awards (HMMA) !
Winners are chosen by select members of the Society of Composers & Lyricists, the TV Academy, the Academy of Motion Picture Arts and Sciences' music branch, the National Academy of Recording Arts and Sciences and performing-rights organizations, as well as film-music journalists and music executives.
Past honorees include soundtracks for such iconic movies as "Joker", "La La Land", "Rocketman", "Ford V Ferrari", "Jojo Rabbit", "Lion King", "Parasite", "The Addams Family", "Incredibles 2", "Green Book", "Deadpool 2", famous composers and songwriters Hans Zimmer, Alan Silvestri, Glen Campbell, "Earth, Wind & Fire", Diane Warren, Smokey Robinson,
Annie Lennox,
Dave Mason, Sam Smith, Jennifer Lopez, Brian Wilson, Lady Gaga, Christopher Young, John Debney, John Powell, Anthonio Sanchez, Shawn Stockman, to name a few.
If last year's HMMA voting is any indication, then the HMMAs are as strong a predictor of best original song and best original score Golden Globe and Oscar noms as any of the awards that precede those — all five HMMA score nominees last year also were nominated for the corresponding Golden Globe, and the HMMAs was the only notable precursor award to even nominate the songs en route to its Oscar nom.
The HMMA awards ceremony will take place on January 27, 2021 in Hollywood.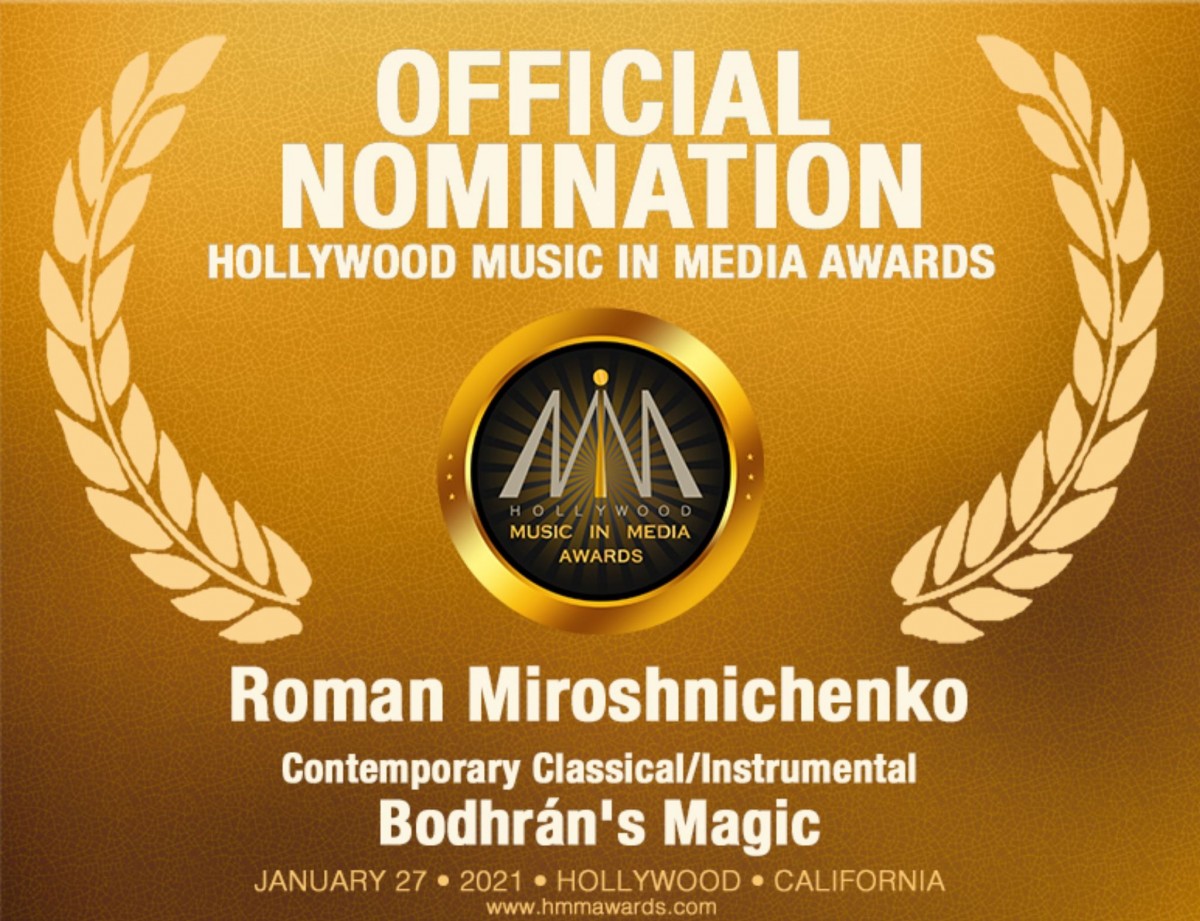 09/27/2020
Limited edition CD of new Roman's album 'The Sixth Sense' is availbale at Bandcamp!
Digital distribution is on
iTunes.
The album was recorded latest spring-summer with Roman's musical brothers: Val Chernook on drums and Oleg Kanakov on bass.
"The Sixth Sense" is also joined by world renown special guests: Jennifer Batten (Michael Jackson, Jeff Beck), Charlie Bisharat (Grammy Winner), Bunny Brunel (Grammy-nominee, CAB, RTF), Paul Wertico (7-time Grammy winner, Pat Metheny), Gary Husband (John Mclaughlin, Gary Moore, Allan Holdsworth), Dominique DiPiazza (John Mclaughlin), Frank Colon (Manhattan Transfer), Gumbi Ortiz (world renown percussionist, Al Di Meola), Matt Laurent (Notre-Dame de Paris), Luis Alicea (drummer for Al Di Meola).
Among with Roman's new 8 compositions album included an electric version of Henrik Andersen's Award-winning ("Best World Traditional Song" of the 15th Annual Independent Music Awards) composition "Moon Over Tanjore" and 2-time Latin Grammy winning composer and producer Daniel Figueiredo's piece "Planar", feat. Rannieri Oliveira(piano) and St.Peterburg Studio Symphonic Orchetra.
"Hey Roman! Great track! Amazing tone and phrasing! Really cool stuff! Good to see you guys making good use of the quarantine!" - Steve Vai kindly noted about one of new album's compositions "IsoBoogie", featuring the 'Guitar Queen' Jennifer Batten.
09/21/2020
From September 15 to 18, 2020, Kaluga hosted the XIII international music festival "World of guitar" - one of the brightest events in the cultural life of Russia. During the four days of the festival, at the Philharmonic Hall played guitar music of various genres: classical, Russian guitar, flamenco, jazz-rock and fusion, which was performed by talented performers from Russia, Armenia, Belarus, Kazakhstan, Moldova and Cuba.
The final part of the festival, introduced the Roman Miroshnichenko and Moscow city Symphony presented a guitar show "My Best Songs", which included a number of compositions written by Roman Miroshnichenko, which brought him many awards the world's leading American and British music awards and competitions in the period from 2009 - 2019.