News
02/01/2023
Roman Miroshnichenko just made FINALIST in the 19th Annual International Acoustic Music Awards out of the USA in the "Best Instrumental" category with his original composition "Salvador" (guitar duo with Henrik Andersen). The judges committee (Blue Ribbon) of the competition consists of producers of major labels SONY/BMG, Universal Music, EMI, Warner.
Past IAMA's honores include Joel Rafael and Jason Mraz, Meghan Trainor, Zane Williams, Jonatha Brooke, Al Di Meola.

12/16/2022
Roman Miroshnichenko just won GLOBAL MUSIC AWARDS - GOLD MEDAL!!!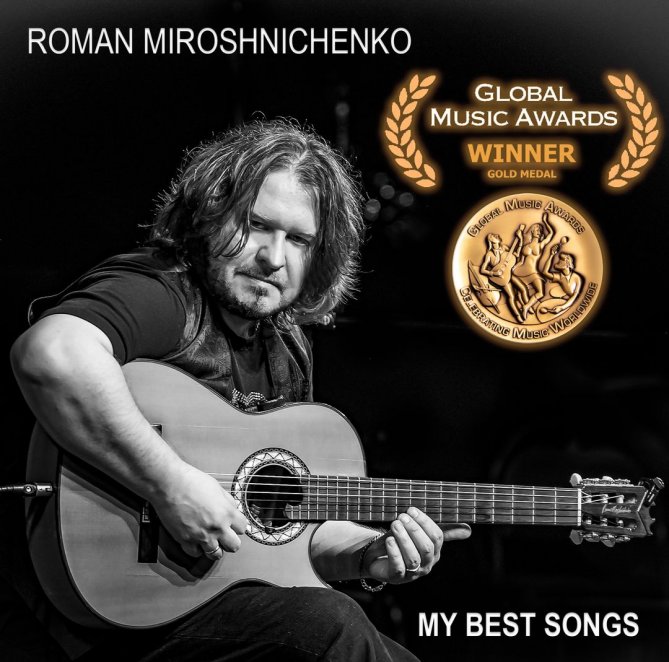 12/10/2022
We proud to announce that composition "Pianino" from the album "Roman Miroshnichenko plays Daniel Figueiredo" - Laureate of the UK Songwriting Contest with FIVE Stars rate in "Instrumental" category!
"The UK Songwriting Contest judges include top multi- platinum Grammy, Emmy and BRIT Award winning songwriters and producers who have worked closely with such artists as Christina Aguilera, Sting, Paul McCartney, Elton John, Kylie Minogue, Robbie Williams, Oasis, Britney Spears and many others.
11/29/2022
In August-September 2022, Roman Miroshnichenko's fall tour was held with great success, with the participation of the Vladimir Chamber String Orchestra. Additional surprise for audience were joint shows with the rock-star, lead singer of Whitesnake and Thin Lizzy, Marco Mendoza.
p.s. the compilation uses photo and video materials filmed in the cities of Vladimir, Dobrograd, Kaluga, Kirzhach, Kovrov, Kolchugino, Moscow, Pokrov, Suzdal as well as fragments of Roman Miroshnichenko's summer performances at Red Square and Moscow International House of Music.
11/15/2022
Roman Miroshnichenko just made twice-FINALIST in The USA Songwriting Competition (USASC). This time - in the "World Music" category with the author's composition "Flying Dragon", feat. Danish guitarist Henrik Andersen and Indian percussionist Trilok Gurtu, as well as in the "Jazz" category with the joint single "Fusion Holidays" in the company of French bass guitarist Bunny Brunel and Australian drummer Virgil Donati.
USASC is the world's leading international songwriting and composer competition with over $100,000 in prize money. The judging committee (Blue Ribbon) of the competition is made up of leading figures in the music industry, including major label publishers and producers SONY Music, Universal Music, EMI, Warner/Reprise and others. Among the USASC laureates of previous years are Ian Anderson, Gino Vanelli, Al Di Meola, Jami Alimorad and others. In 2013, Roman Miroshnichenko managed to become the first and only single Russian winner in the entire 25-year history of The USA Songwriting Competition, winning the First Prize of the competition.