News
08/09/2021
We proud to announce that session 2 results are out and composition "Corona Funk" from our joint album "New Shapes" just made Semi-FINALIST of the UK Songwriting Contest with FIVE Stars rate in "JAZZ" category!
"The UK Songwriting Contest judges include top multi- platinum Grammy, Emmy and BRIT Award winning songwriters and producers who have worked closely with such artists as Christina Aguilera, Sting, Paul McCartney, Elton John, Kylie Minogue, Robbie Williams, Oasis, Britney Spears and many others.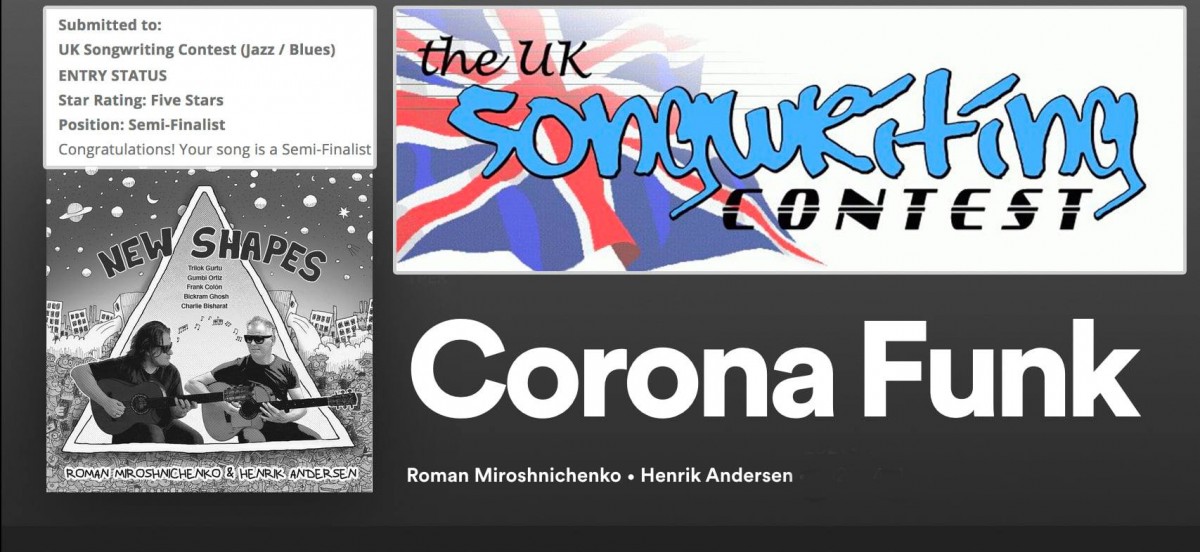 08/07/2021
Roman Miroshnichenko won two silver medals at the international competition Global Music Awards. The awards in the nomination "Best World Fusion Album" and "Best World Music Composition" were awarded to the joint album "New Shapes" with Danish guitarist Henrik Andersen, as well as the composition of the same name, featuring world renown percussionist Gumbi Ortiz and famous Indian tabla player Bickram Ghosh, known for his collaboration with George Harrison. Winners were announced on August 7th in California.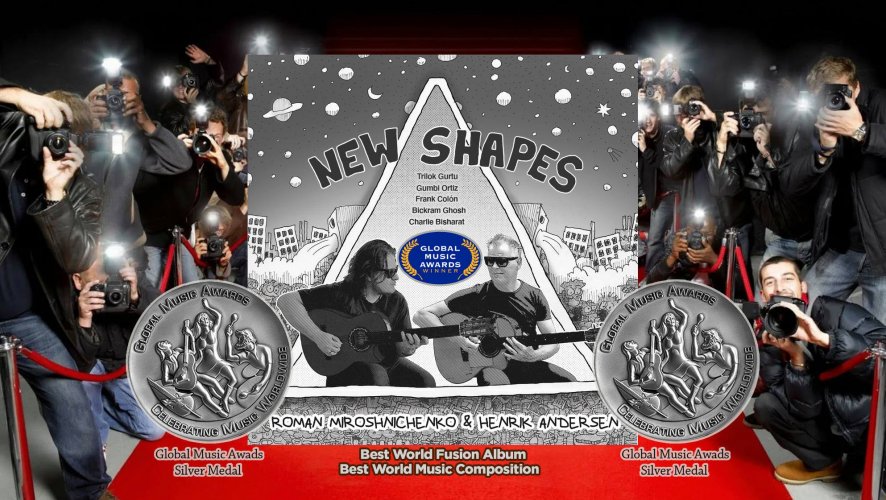 07/29/2021
«New Shapes» - A Wide Variety Of Styles By The Pacesetter In Today's Fusion Scene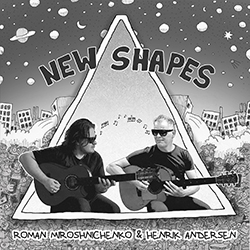 Author of 11 jazz books and over 20,000 reviews for Down Beat, JazzTimes, L.A. Jazz Scene Scott Yanow is rightfully recognized as one of the most respected music critics of our time. This time Scott did't disregard the new joint album of guitar virtuosos Roman Miroshnichenko and Henrik Andersen, appreciating their latest work in his review:
A powerful guitarist who has led more than ten albums so far, Roman Miroshnichenko can be considered one of the pacesetters in today's fusion scene. He has performed with such greats as Larry Coryell, Steve Vai, Paul Wertico, Bunny Brunel and Al Di Meola. Born and raised in the Ukraine, he started out exploring blues and rock before deciding to become a jazz guitarist, one who is always looking for a new challenge. "New Shapes" is just that for it shows that Miroshnichenko is just as impressive on acoustic guitar as he is on electric.
On New Shapes, Roman Miroshnichenko teams up with fellow guitarist Henrik Andersen. Born and raised in Copenhagen, Andersen is not only a top-notch guitarist but a vocal percussionist who can sing rapid lines. Trilok Gurtu, a famous Indian percussionist who worked with John McLaughlin and Oregon, was one of his teachers and is a special guest on New Shapes.
The project also includes appearances by percussionists Bickram Ghosh, Frank Colon, and Gumbi Ortiz plus violinist Charlie Bisharat.
Sticking to nylon and steel string acoustic guitars, Miroshnichenko and Andersen constantly challenge each other throughout New Shapes while exploring a wide variety of styles. Both are capable of lightning-fast runs and those are used for punctuation throughout the set without losing the essence of the melodies, moods, and rhythms.
The opener, "Russian Mountains," makes it clear that the guitarists are both virtuosos but ones who always keep the melody in mind. This is one of several pieces in which Andersen's rhythmic scatting (which interacts closely with the percussionists) has a memorable spot. "New Shapes" begins quietly, has close interplay between guitar, percussion and voice, and consists of several colorful sections. On "Playground" the guitarists trade off playful ideas throughout and utilize a childlike theme that fits the piece's title.
"Flying Dragon" has a particularly catchy melody and a fairly simple structure over which the guitarists create some miraculous lines during their solos. A moody rhythmic pattern is the basis of "Corona Funk," a performance that builds up in tension and passion quite effectively. "Bodhran's Magic" is a jazz waltz with an Indian feel that features violinist Bisharat trading off with Miroshnichenko. On "Salvador" the two guitarists utilize the feeling of flamenco with a touch of gypsy swing while the closing "Simona's Summer Samba" gives them an opportunity to play Brazilian samba in 7/8.
New Shapes is filled with variety and excitement. It features Roman Miroshnichenko and Henrik Andersen at their most inspired.
/ Scott Yanow, jazz journalist/historian and author of 11 books including The Great Jazz Guitarists and Jazz On Record 1917-76 /
07/24/2021
New joint album of prominent guitar virtuosos Roman Miroshnichenko and Henrik Andersen is out! "New Shapes" joined by special guests: Grammy-winning violinist Charlie Bisharat and best percussionists in the world: Trilok Gurtu (John Mclaughlin), Bickram Ghosh (George Harrison), Frank Colon (Manhattan Transfer), Gumbi Ortiz (Al Di Meola). Throughout incredible acoustic gutar music album, the duo demonstrate their fantastic instrumental skills, musicality and deep knowledge of jazz-fusion, flamenco, latin. This is unique mix of nylon and steel string guitars, Indian tablas and konnakol, Brasilian samba, Russian folk and Mediterranean rhythms, emotional musicianship, setting the new musical genre — Acoustic Neofusion.

"As Henrik was part of my band I'm happy I recognized his multitalent. Now I see the progress in him and of course with such a great partner like Roman to enhance the music for younger generation. I hope the music fraternity encourages these two upcoming musicians and supports them." — Trilok Gurtu kindly noted.
07/06/2021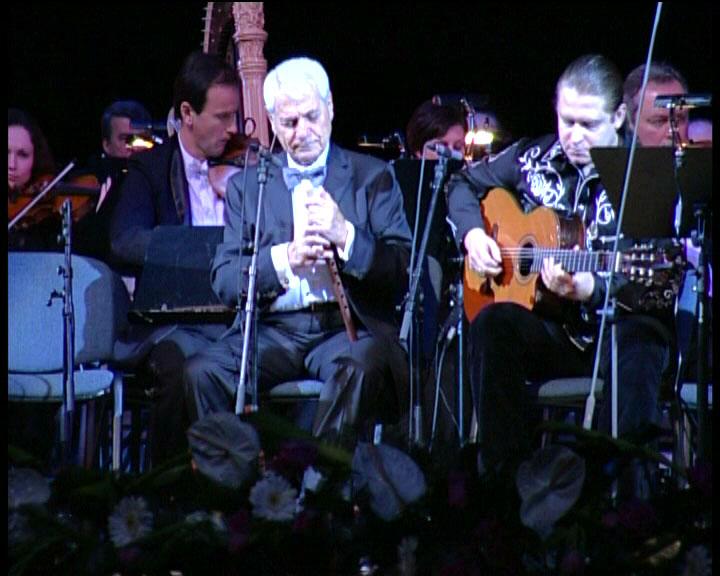 The unsurpassed, Grammy and Oscar winning master of the duduk Djivan Gasparyan passed away on Tuesday, July 6, at the age of 93. The Maestro has worked with such prominent contemporary musicians as Lionel Richie, Peter Gabriel, Hans Zimmer, Brian May, Andreas Vollenweider.
"Thanks to Jivan Gasparyan, the whole world learned about such a beautiful instrument as the duduk. I will never forget the moments when we played together the music from the "Gladiator" and those laconic and wise advice from Jivan at rehearsals." - recalls Roman Miroshnichenko.
Largely thanks to Jivan Gasparyan, in 2005 the Armenian duduk and the music performed on it were assigned the status of a masterpiece of the oral and intangible cultural heritage of mankind by UNESCO.