News
11/29/2022
In August-September 2022, Roman Miroshnichenko's fall tour was held with great success, with the participation of the Vladimir Chamber String Orchestra. Additional surprise for audience were joint shows with the rock-star, lead singer of Whitesnake and Thin Lizzy, Marco Mendoza.
p.s. the compilation uses photo and video materials filmed in the cities of Vladimir, Dobrograd, Kaluga, Kirzhach, Kovrov, Kolchugino, Moscow, Pokrov, Suzdal as well as fragments of Roman Miroshnichenko's summer performances at Red Square and Moscow International House of Music.
11/15/2022
Roman Miroshnichenko just made twice-FINALIST in The USA Songwriting Competition (USASC). This time - in the "World Music" category with the author's composition "Flying Dragon", feat. Danish guitarist Henrik Andersen and Indian percussionist Trilok Gurtu, as well as in the "Jazz" category with the joint single "Fusion Holidays" in the company of French bass guitarist Bunny Brunel and Australian drummer Virgil Donati.
USASC is the world's leading international songwriting and composer competition with over $100,000 in prize money. The judging committee (Blue Ribbon) of the competition is made up of leading figures in the music industry, including major label publishers and producers SONY Music, Universal Music, EMI, Warner/Reprise and others. Among the USASC laureates of previous years are Ian Anderson, Gino Vanelli, Al Di Meola, Jami Alimorad and others. In 2013, Roman Miroshnichenko managed to become the first and only single Russian winner in the entire 25-year history of The USA Songwriting Competition, winning the First Prize of the competition.

11/03/2022
The composition "Pianino" from the album "Roman Miroshnichenko plays Daniel Figueiredo" received a nomination at the Hollywood Music in Media Awards in the "Instrumental" category. The album "Roman Miroshnichenko Plays Daniel Figueiredo" was released at the end of 2021 on the Brazilian label MJC Music. The album includes 10 tracks written by two-time Latin Grammy winner Daniel Figueiredo and performed by virtuoso guitarist Roman Miroshnichenko to the accompaniment of St. Petersburg Studio Orchestra and Brazilian pianist Ranieri Oliveira.

Past HMMA nominees/winners include «Black Panther», «Avatar», «Spiderman» soundtracks, composers/songwriters Jennifer Lopez, Rihanna, Lady Gaga, Taylor Swift, Diane Warren, Selena Gomez, Billie Eilish, Carlos Santana, Terence Blanchard, Alan Silvestri, John Williams, Hans Zimmer and many more. In 2021-2022 Roman Miroshnichenko has already managed to win three HMMA nominations.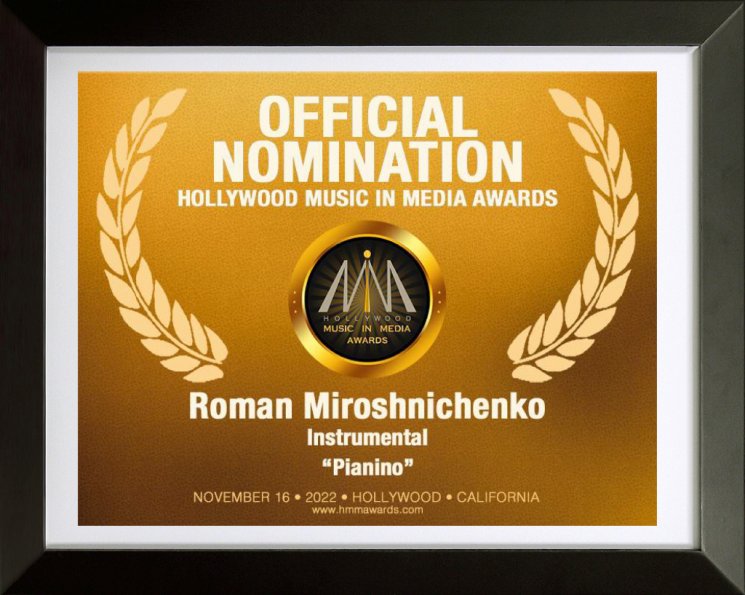 10/13/2022
Roman's latest album «Roman Miroshnichenko Plays Daniel Figueiredo», composed and produced by 2-time Latin Grammy Winner Daniel Figueiredo, featuring 25-piece St. Petersburg Studio Orchestra and pianist Rannieri Oliveira is submitted this year under «Best Contemporary Instrumental Album». Also, 4 compositions («Pianino», «Oitava», «Salto» and «Fluir») from the album in the composing/arranging categories as well. FYC!
Also, guitar solo from the single «Fusion Holidays» is submitted under «Best Improvised Jazz Solo» category. "Fusion Holidays" was conceived by 2-time Grammy-nominated bassist Bunny Brunel and is a "one-off" single featuring famed jazz-fusion guitarist Roman Miroshnichenko. Other musicians are Virgil Donati (drums) Kaylene Peoples (flute), and Mahesh Balasooriya (keys).
«Roman Miroshnichenko takes the first solo and paints a hard-hitting melodic portrait, filled with tasty riffs and serious shredding» / Schmooze Jazz, April 2022 /
09/14/2022
"For his great contribution to the development of national culture and art, many years of fruitful activity" Roman Miroshnichenko was awarded the Medal of the Order "For Merit to the Fatherland". The corresponding decree of the President of the Russian Federation Vladimir Putin was published on September 14, 2022.