News
04/04/2022
For many years, Roman Miroshnichenko has been the CEO of the "World of Guitar" festival. On the eve of the 25th anniversary of the largest guitar forum, the Ministry of Culture of the Russian Federation sent a "Letter of thanks" to the festival's team.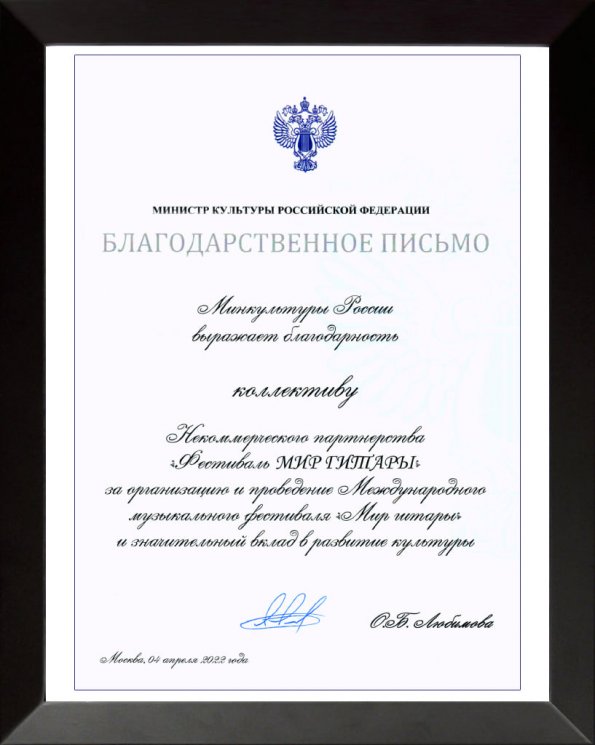 02/01/2022
Roman Miroshnichenko is a double FINALIST of the 18th Annual International Acoustic Music Awards (IAMA). Such an outstanding result in the category "Best Instrumental" was made by original compositions 'Bodhrán's Magic' and 'New Shapes' from the eponymous joint album with Danish multi-instrumentalist Henrik Andersen.
The judging committee (Blue Ribbon) of the competition consists of major label producers SONY/BMG, Universal Music, EMI, Warner. In previous years, IAMA laureates have included such global stars as Meghan Trainor, Jason Mraz, Al Di Meola, Zane Williams, Jonatha Brooke, and Roman Miroshnichenko himself, who won the 1st IAMA prize in 2020.

01/28/2022
Latest album "Roman Miroshnichenko plays Daniel Figueiredo" just won two silver medals at the international competition Global Music Awards in the nominations "Best Album" and "Best Instrumental"! Winners were announced on Jan, 28th in California.
11/22/2021
Roman Miroshnichenko's and Henrik Andersen joint tracks "Corona Funk" and "Flying Dragon" (feat. Trilok Gurtu), from new album "New Shapes" - NOMINEEs of The Hollywood Music In Media Awards (HMMA)!
Сurrent nominees include famous composers and songwriters:
Hans Zimmer, Nicholas Britell, Amie Doherty, BEYONCÉ, Bono, U2, Billie Eilish, Diane Warren, Van Morrison, Marc Anthony, Joni Mitchell, Carole King, Dolly Parton, Eddie Vedder, Ariana Grande, Brian Wilson, JAY-Z,
Tokyo Studio Symphony, to name a few.
Winners are chosen by select members of the Society of Composers & Lyricists, the TV Academy, the Academy of Motion Picture Arts and Sciences' music branch, the National Academy of Recording Arts and Sciences and performing-rights organizations, as well as film-music journalists and music executives.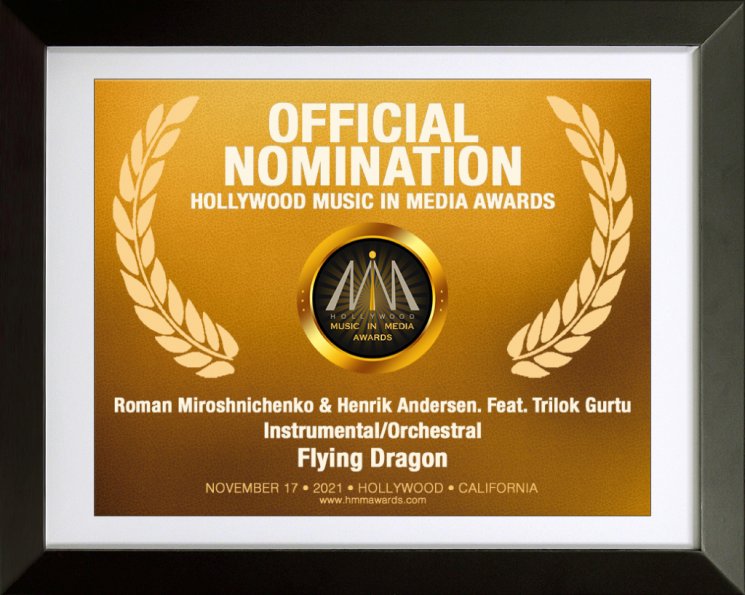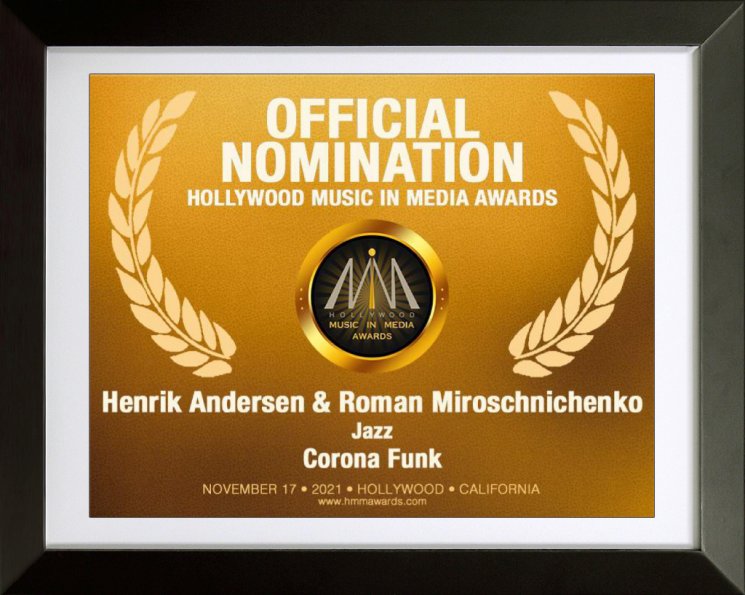 11/16/2021
For 5th year a row Roman Miroshnichenko just made FINALIST of the 26th USA Songwriting Competition with his composition «Bodhrán's Magic» from the multi-Award winning album «The Sixth Sense»! «Instrumental» category. The USA Songwriting Competition, the world's leading international songwriting event honors songwriters, composers, bands, and recording artists. Winners were selected by a Blue Ribbon committee of music industry judges including record label publishers, producers from SONY Music, Warner/Reprise Records, etc. Past honorees include Jan Anderson, Al Di Meola, Gino Vanelli, Steffani Bennett, Gabriel Mann and others.