News
05/17/2021
The 24th international World Of Guitar music festival took place on May 24-28, 2021 in Kaluga, Russia. This year, during the main portion of the festival, on May 26th took place joint concert of guitar virtuoso Roman Miroshnichenko and his band with outstanding tango nuevo interpreter — Argentinian pianist Mario Parmisano, featuring the 50-piece Moscow City Symphony.
"It was a great pleasure to perform again with Roman Miroshnichenko — a great guitarist who has performed with Steve Vai, Larry Coryell and many other world jazz stars" — shared the joy of the joint performance of Mario Parmisano.
The next day, on May 27th, Roman Miroshnichenko with his band presented his album The Sixth Sense. All were well received at a sold out Kaluga Philharmonic Hall.
"This year the festival days were dedicated to the 100th anniversary of the "King" of tango Astor Piazzolla and pioneer of jazz fusion Chick Corea. Astor and Chick — musicians who have shaped modern instrumental music. Both are geniuses," said the festival CEO Roman Miroshnichenko.
The album won the silver medal of the Global Music Awards, continues to grow in popularity in Japan, where a wide distribution of a special CDs edition started. One of the new album's compositions "Bodhrán's Magic", feat. American violinist Charlie Bisharat received a nomination for the prestigious Hollywood Music In Media Awards, becoming one of the number of such nominees as Hans Zimmer, Alan Silvestri, Howard Shore, Branford Marsalis, Terence Blanchard and others.
Scott Yanow commented on the release: "When one listens to the powerful guitar playing of Roman Miroschnichenko, it is easy to be reminded of John McLaughlin, Al DiMeola, Paco DeLucia and John McLaughlin during his Mahavishnu days, but it soon becomes apparent that Miroschnichenko has his own sound within fusion, setting the standard for XXI century fusion guitar."
Currently Miroshnichenko is completing joint album New Shapes together with Danish guitarist Henrik Andersen, featuring special guests: Trilok Gurtu, Bickram Ghosh, Gumbi Ortiz, Charlie Bisharat and Frank Colon.
05/15/2021
Frank Colо́n's album 'Latin Lounge', featuring Roman Miroshnichenko - №5 of the Roots Music Report's Top Latin Album Charts for the Year of 2020! Frank Colо́n - world renown percussionist who has worked with such great stars as The Manhattan Transfer, Wayne Shorter, Aretha Franklin, Herbie Hancock, Michel Camilo, Michel Petrucciani, Paquito D'Rivera, Gato Barbieri, Marcos Valle, Joao Donato among many others.
"If you're a fan of flamenco guitar, you'll fall in love immediately with the wonderful "Spanish Heart", feat. Roman Miroshnichenko on flamenco guitar… I have no doubt that this piece will be getting some MAJOR airplay on jazz stations around the globe" - Dick Metcalf, editor, Contemporary Fusion Reviews.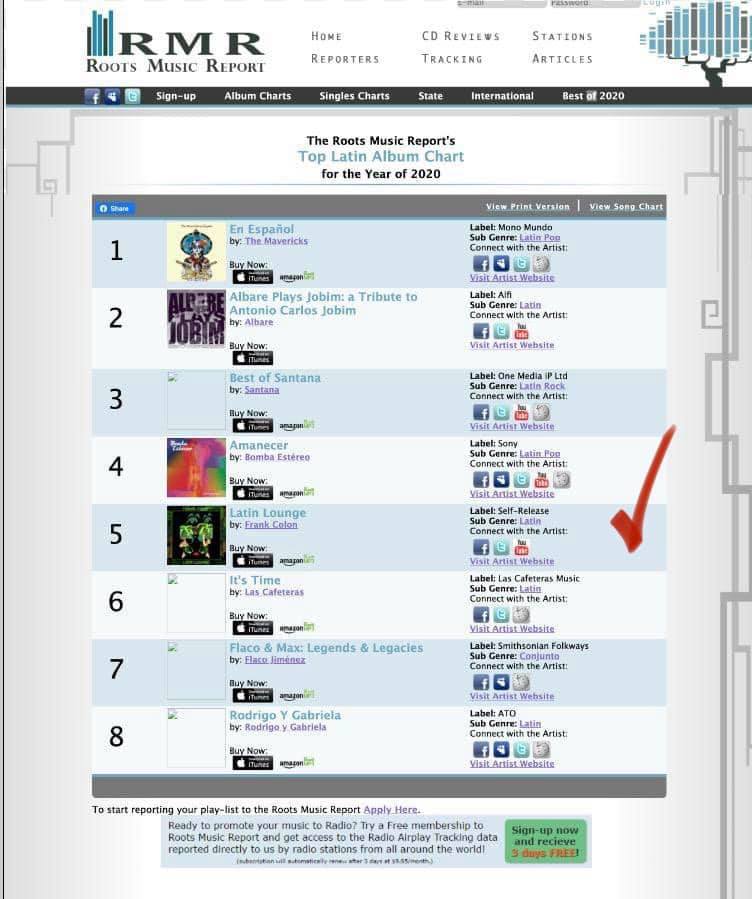 05/05/2021
Roman Miroshnichenko included to the Grand Jury of the LIT Talent Awards. The judging panel featuring Award-winning musicians, composers, members of the US National Academy of Recording Arts and Sciences (NARAS) and acclaimed composers from the USA, Canada, Brazil, Germany, Austria, Italy and Malaysia.
03/22/2021
When one listens to the powerful guitar playing of Roman Miroschnichenko, it is easy to be reminded of Al Di Meola and John McLaughlin during his Mahavishnu days, but it soon becomes apparent that Miroschnichenko has his own sound within fusion. While he is never shy to cut loose, he also uses subtlety, mood variations and creativity throughout, mixing together tight arrangements with pure spontaneity.
Born in the Ukraine, Roman Miroschnichenko (the son of a saxophonist) began playing guitar when he was 14. While he started out exploring blues and rock, he was regularly exposed to jazz which he found challenged him more. Since 2003 he has led at least ten albums, setting the standard for 21st century fusion guitar.
The Sixth Sense has Miroschnichenko and his regular trio with electric bassist Oleg Kanakov and drummer Val Chernook are joined by special guests along the way which give the project variety. The guitarist performs eight of his originals plus Henrik Andersen's "Moon Over Tanjore" and Daniel Figueiredo's "Planar."
The opener, "Flying Dragon," has bassist Bunny Brunel joining Miroschnichenko for a high-powered and assertive theme that inspires the guitarist to play with a great deal of intensity. "Night In June" with percussionist Gumbi Ortiz also starts on an intense level but uses space that allows Miroschnichenko to draw out the melody as the performance builds and builds. "Isoboogie," with guitarist Jennifer Batten added to the group, has a particularly catchy groove that is both memorable and fiery. "The Sixth Sense (which includes drummer Luis Alicea, percussionist Paul Wertico, and some background singing from Matt Laurent) is a relatively melodic piece that cools things down a little.
It acts as a prelude to one of the album's highpoints, "Bodhran's Magic." The interplay between Miroschnichenko and violinist Charlie Bisharat is quite colorful and the violinist takes an outstanding solo. In contrast, "Planar," which includes pianist Rannieri Oliveira and the St. Petersburg Studio Orchestra, is a pretty ballad given a concise treatment. "Moon Over Tanjore" with guitarist Henrik Andersen and bassist Dominique Di Piazza has rapid lines played impeccably by the two guitarists who consistently challenge each other while displaying distinctive styles. "Olé" finds guest keyboardist Gary Husband adding jazz flavor to a piece that features a strong melody and Spanish rhythms. "Ocean" with Frank Colon and Gumbi Ortiz on percussion, is quite explosive yet melodic while "Breathe Groove" concludes the memorable set with a calm and peaceful theme.
The Sixth Sense is an impressive effort that can either be an introduction to the talents of Roman Miroschnichenko for some listeners, or be a prized acquisition for the guitarist's many fans.
/ Scott Yanow, jazz journalist/historian and author of 11 books including The Great Jazz Guitarists and Jazz On Record 1917-76 /
02/24/2021
We're proud to announce that Roman Miroshnichenko just made semi-FINALIST in the International Songwriting Competition (ISC) under the "Instrumental" category for his composition "Bodhrán's Magic" from the latest Award-winning album "The Sixth Sense".
The International Songwriting Competition (ISC) is an annual song contest which has the most prestigious panel of judges (Coldplay, Tom Waits, John Mayal, Arturo Sandoval, Jack Dejohnette, Dave Koz to name a few) of all the songwriting and music contests in the world with over 26,000 entries from 158 countries. This is Roman's 35th official recognition in the most prestigious US and UK music competitions he was nominated since 2010.