Parmisano & RM
Sensual melodies and daring rhythms, a combination of classical polyphony and jazz harmonies organically intertwined in a duet of virtuosos Mario Parmisano and Roman Miroshnichenko - one of the best interpreters of tangonuevo, which is more than dance and more than music ...
"...Guitar virtuoso Roman Miroshnichenko and his band with outstanding tango nuevo interpreter — Argentinian pianist Mario Parmisano, featuring the 50-piece Moscow City Symphony. All were well received at a sold out Kaluga Philharmonic Hall.
"It was a great pleasure to perform again with Roman Miroshnichenko — a great guitarist who has performed with Steve Vai, Larry Coryell and many other world jazz stars" — shared the joy of the joint performance of Mario Parmisano..." /All About Jazz/
Line Up:
Mario Parmisano - piano
Roman Miroshnichenko - guitar

On Stage: 2
Travel party: 2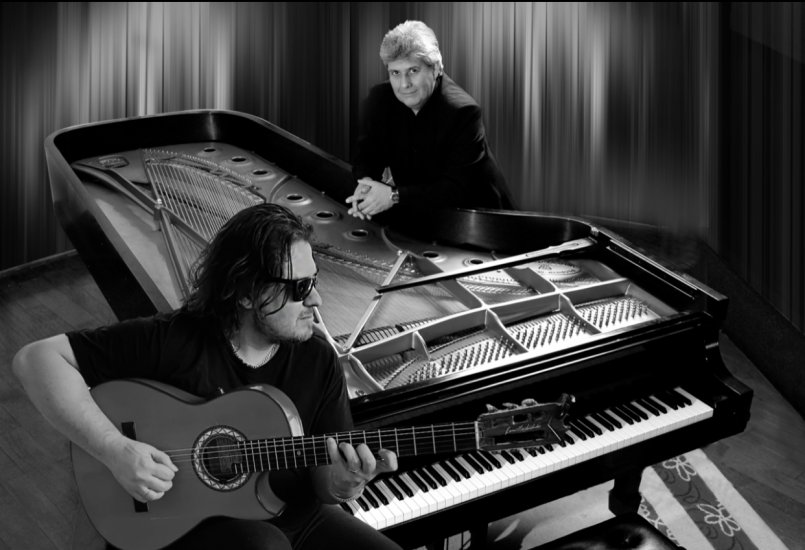 Mario Parmisano
(Piano)

Born June 18, 1960, Buenos Aires, is an Argentinian jazz pianist. He is recognized on the international scene for his work with guitarist Al Di Meola and for his Tango Jazz Trio, performing a unique interpretation about the Music of the Great Tango Master Astor Piazzolla. In 1993 he moved to New York and immediately began to play with Di Meola. He participated as pianist-arranger-composer and associate producer, on many of his recordings. Along with Di Meola he played with Herbie Hancock, Chick Corea, Steve Gadd, Peter Erskine, Manú Katché, Anthony Jackson, John Patitucci, Marc Johnson, Pino Palladino and the Toronto Symphony Orchestra.

During 15 years of touring, Parmisano performed at the Vienna Opera House, jazz festivals including Montreal, Montreux, JVC, Heineken, North-sea Jazz and the Blue Note. He has given nearly 2,000 concerts, with Al Di Meola's Electric Project and the Acoustic Group: World Sinfonia. He performed with The Amadeus Chamber Orchestra from Poland, the Kiev Symphony Orchestra and the Moscow Symphony Orchestra, at the Peter Tchaikovsky Hall in Moscow.

Parmisano performed his "Tribute to Piazzolla" for the past few years in many countries with artists including Yellow Jackets, Michel Camilo, Abraham Laboriel, Paco de Lucia and Chamber Orchestra Kremlin. He gave a concert with the Symphony Orchestra of the Institute Superior of Art, conducted by Francisco Noya, Director of the Berklee College of Music, at Teatro Colón of Buenos Aires. He recorded Michelangelo with Jorge Oss on bass and Lucas Canel on drums, which was nominated for the Carlos Gardel Awards 2012.

Roman Miroshnichenko
(Guitars)

Roman Miroshnichenko is a virtuoso guitarist, one of the premier guitarists of the new generation of the jazz-fusion music. He has received a total of 30 nominations with 10 wins in multiple international songwriting contests and music awards throughout 2010-2021, including 4-time Winner of The Independent Music Awards, 1st Prize of the USA Songwriting Competition, 1st Prize of the International Acoustic Music Awards, Global Music Award, The Hollywood Music in Media Awards nominee, Honorable mention prize of the International Songwriting Competition and 3- time Finalist of the UK Songwriting Contest.


His soaring career as an artist includes numerous collective performances, and recordings with such world- renowned musicians as Steve Vai, Larry Coryell, Al Di Meola, Jennifer Batten, Simon Phillips, Marco Mendoza, Gary Husband, Stu Hamm, Heather Headley, Paul Wertico, Djivan Gasparyan, Joao Donato, Richie Cole, Dominique Di Piazza, Daniel "Pipi" Piazzolla, Charlie Bisharat, to name a few.

His soaring career as an artist includes numerous awards from international jazz festivals and contests, as well as collaboration, performances and recordings with such world-renowned musicians as: Steve Vai, Al Di Meola, Larry Coryell, Jennifer Batten, Djivan Gasparyan, Heather Headley, Marco Mendoza, Paul Wertico to name a few.

Roman is endorsed by Ovation Guitars, Paul Reed Smith guitars, Roland Music, IK Multimedia, Orange Amplification, DPA Microphones and D'Addario Strings Proud Artist.